After two beta releases, BuddyPress 2.0 "Juliana" has been released on Wednesday. This release focus on speed, admin tools, and developer enhancements. This version is named after Juliana's Pizza in Brooklyn, NY.
Performance Improvements

BuddyPress 2.0 features a huge performance improvement. BuddyPress sites are highly dynamic, which makes it a highly database-driven platform. This version is here to knock this problem out. New friendship activity items, such as "Facebook and WhatsApp are now friends," will no longer stored statically in database tables, but will be generated dynamically at the runtime. So, this will reduce your database size for sure.
New Administrative Tools
Extended Profiles In Admin
WordPress administrators can now edit members' xProfile data straight from the Dashboard > Users interface. You can manage profile data, avatars, user stats, and much more stuff. This is what makes it best plugin to create your own social networking website.
Registration Management
This feature was first developed as a plugin, which is now part of the BuddyPress core. This feature allows you to manage all the pending users from the Dashboard > Users tab. You can manually activate, resend activation emails, or delete the pending registrations. This feature will help you to keep all the inactive and spam users away from your website.
BuddyPress Repair Tools
BuddyPress has added an all new repair tool to fix some data problems. Sometimes, BuddyPress friend counts and data can get out of sync. This new repair tool allows admin to manually reset these values.
Mark Spammers In Admin
WordPress Multisite has an option to mark users as spam from the Dashboard > Users > All Users screen, but BuddyPress 2.0 has added this feature for the non-Multisite installations too. This will allow you to keep your community clean.
A More Dynamic Activity Stream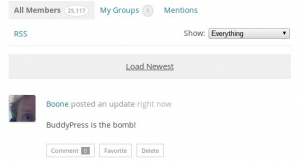 If your BuddyPress website is popular, then your users will love this new feature. You no longer need to refresh the page to see all the new updates, but BuddyPress automatically lets you know when new items are available to be loaded.
Plus, this release has a better intergration with blog posts. Comments on blog post and blog-related activity item will now be synced together.
Developer Tools
This part is really going to be huge, so I'll just point our few new developer enhancements in this post.
There's a brand new API for registering xprofile field types. See #5220.
User last activity data has been moved from database's usermeta table to activity table.
And more are available at this link.
If you loved BuddyPress 1.0, which was released almost five years ago, you'll definitely love the BuddyPress 2.0. Thanks to all the 43 volunteer contributors for making this release possible. You can get BuddyPress 2.0 from the plugin repository, or right from your WordPress Dashboard.