WordPress 3.9 has been given a release date of April 15th, with the first beta expected on February 26. I have been following the 3.9 release from some time now, and I'm really excited to share this potential 3.9 features with you.
Nothing is written in stone yet, but this looks like the way it's going to be. These are the potential features for the WordPress 3.9 release:
TinyMCE 4
TinyMCE 4 was released in the mid-2013, and TinyMCE 4.0.16 released in the last week of the January. TinyMCE 4 is a lock for the WordPress 3.9. There is a slideshow that highlights some of the changes.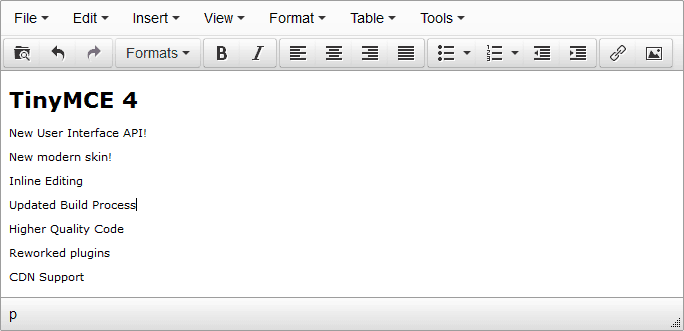 The latest version of our favorite WYSIWYG editor features an improved UI, an inline editing mode, insert table button, and a lot of new features. You try the TinyMCE 4.0 version of their website. In addition, there's also a ticket to add a code button to TinyMCE.
Widget Customizer
WordPress 3.9 will feature a huge improvement in its widget UI. Widget Customizer will bring a new widget editing experience to your WordPress. With Widget Customizer, you can easily edit widgets of your website very easily. (Click on the below image to enlarge)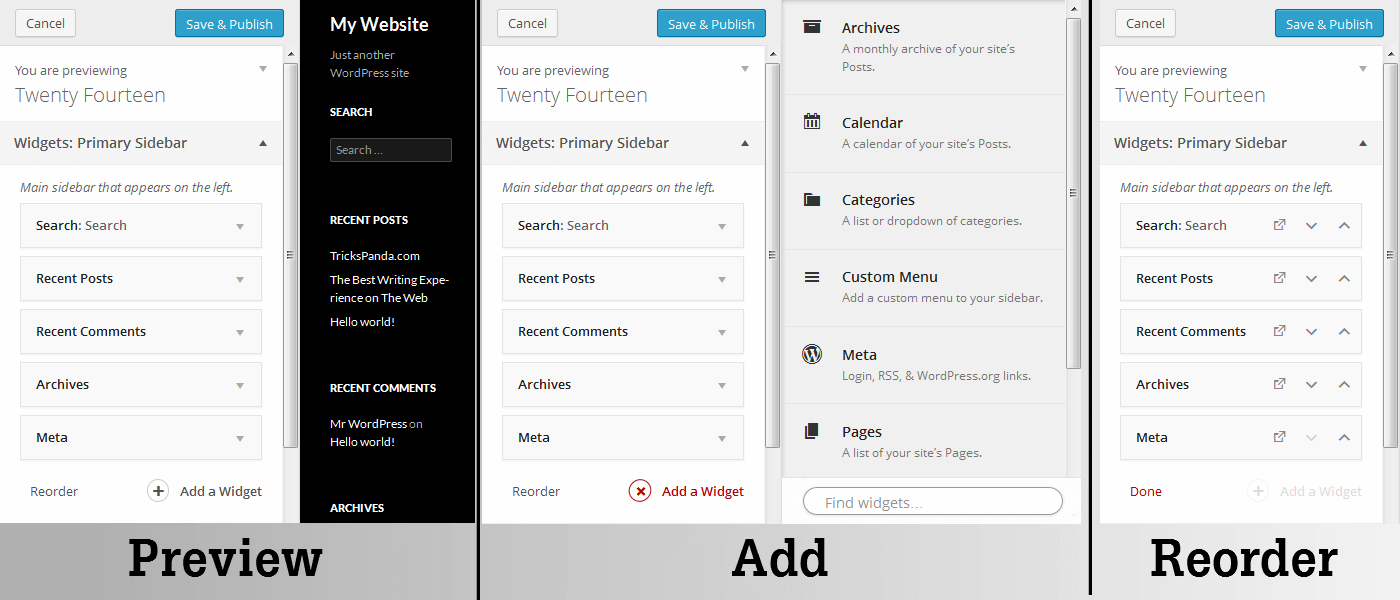 You can edit, move and preview what widgets look like before you hit Save and Publish. Each widget area of your theme gets its own panel in the theme Customizer (Appearance > Customize) settings. You can also install Widget Customizer as a plugin at this link.
Better Widgets
Better Widgets is also a part of WordPress 3.9's widget UI improvement. It's coded by Shaun Andrews, who also contributed to Widget Customizer. It will improve the user experience of adding and dragging widgets to the widget section (Appearance > Widgets) of your WordPress.

I tested this plugin on my test site it it's really easy, but needs to look a bit neat. You can also test this plugin at this link.
WordPress Front-End Editor
This is my favorite feature of the upcoming 3.9 release. A front-end post editor, which will allow you to edit your WordPress posts from the front-end of your website. It'll give you all the tools to edit, change settings, tag, and all the stuff.

It also gives you an option to add feature image from the front-end of your website if there's an image spot for the features image. I tested plugin and I really liked it. Now, you don't need to worry about how your post will look in the front-end of your WordPress powered website. Why Shaun Andrews has contributed to every potential WordPress 3.9 feature? You can test this plugin by installing it to your WordPress from this link.
Other Features
There are even more features being developed for the WordPress 3.9 release. There's a ticket being developed to add preview buttons to distraction free editor mode, which will make a lot of sense to me. There is also a ticket to change the WordPress welcome message by replacing it with a new improved message.
The upcoming release will fix the post editor's word count bug and it will also fix the WordPress' redirect loop bug. There's also a ticket to add a feature to cancel the post revision by simply clicking on the cancel button on the compare revision screen. It'll also add oEmbed support for Meetup.com.
Last one on this post, but it'll fix one of the most annoying problems of the distraction free editing mode. Distraction free editing mode will no longer wake up on the moves move unless it's in the toolbar of the editor.
That's it for this list. I covered all the major WordPress 3.9 features in this article. What do you think about all these great features?